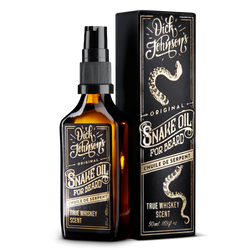 Beard Oil Snake Oil True Whiskey
SKU: 6430076878021
True Whiskey beard oil follows the respectful Original Snake Oil recipe and uses the same carrier and essential oils such as black currant seed oil, argan oil, and jojoba oil. These high-quality oils provide plenty of vitamins and antioxidants and help moisturize the skin and keep the beard soft. So we did not deviate from the functioning recipe for our namesake product, but instead developed a new fragrance - as you requested!
Floral, Oriental, Musky

Top: Bergamot, Lemon, Lavender, Rum, Ginger
Heart: Geranium, Solar Notes, Tobacco, Sandalwood
Base: Vetiver, Musk, Tonka Bean, Vanilla, Ambergris

True Whiskey is a fragrance that we developed together with our customers. We gathered precise comments and feedback on what they would consider to be the best possible fragrance. Based on these, we created several different versions in France, from which customers could choose the best fragrance. It is now finally available.

The True Whiskey fragrance is full and sweet, with refined spices and fruity shades. Its original fragrance opens with a fresh bergamot and lemon scent that goes well with the strong whiskey aroma. After this, the fragrance becomes softer and more refined, with tobacco, sandalwood, and vanilla scents emerging.

The end is long-lasting and stylish, with hints of vanilla, vetiver, and tonka bean. Overall, the True Whiskey fragrance is a harmonious and mature combination that makes it an enticing choice for fans of strong, high-quality fragrances!
Ingredients:
Prunus Amygdalus (Sweet Almond) Dulcis Oil*, Argania Spinosa (Argan) Kernel Oil*, Simmondsia Chinensis (Jojoba) Seed Oil*, Parfum, Tocopherol, Tocopheryl Acetate, Ribes Nigrum (Blackcurrant) Seed Oil, Helianthus Annuus (Sunflower) Seed Oil, Rosmarinus Officinalis (Rosemary) Leaf Extract, Benzyl Cinnamate, Coumarin, Geraniol, Hydroxycitronellal, Limonene, Linalool.