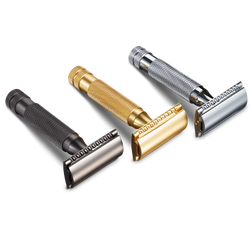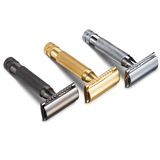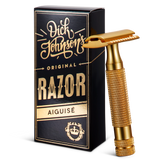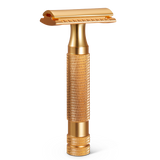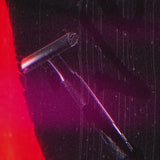 Safety Razor Aiguisé
SKU: 6430062921861
Dick Johnson Aiguise Safety Razor is the perfect choice for those who want a stylish and high-quality razor. This razor complements your gold teeth and black Amex card perfectly, adding a touch of luxury to your shaving routine. Aiguise is designed especially for beginners, and its closed comb head makes it a safe and user-friendly option. Whether you're shaving your wife's legs or your own chin, you can do it comfortably and precisely with this razor.

Using a traditional safety razor is easy and safe—you can't go wrong with it. It allows for precise shaving on the face, head, and even legs. You can also achieve precise beard lines with a traditional razor. Aiguise is highly durable and suitable for long-term use. It's the perfect choice for everyday grooming, and it won't strain your wallet as the replacement blades are very affordable.

Aiguise provides an incredibly close shave without any nicks or cuts. Its use is easy and safe. You'll particularly enjoy the post-shave feeling as skin irritation, which is a common issue with many razors, is completely eliminated. I highly recommend this razor!

This razor is worth its price. It shaves very cleanly and precisely, and its weight and ergonomic design feel comfortable in the hand. It also doesn't irritate the skin like cheap razors from the supermarket. The width of the blade is just right, and the blade doesn't protrude from the sides, which is often a problem with many other razors. The wide shape and texturing of the handle help maintain a secure grip!

Instructions: Open the razor into three parts and insert the blade. Tighten the parts back together, and you're ready to start shaving. Use the razor at approximately a 30-degree angle. The razor is safe to use, but still read the included instructions and remove the blade from the razor after use. Keep the razor out of reach of children.

Size: 9,5cm

Weight: 84 g

Comes with 5 blades

Closed comb

Genuine gold (as if, you faggot)