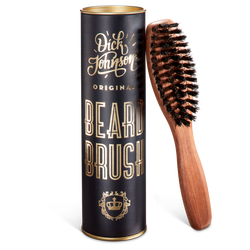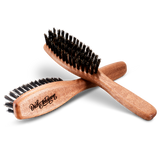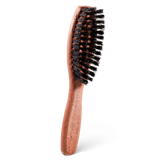 Beard Brush
SKU: 6430062922912
Enjoy your beard grooming sessions with our perfect beard brush, which combines style, efficiency, and comfort. The brush is equipped with a wooden handle that has an elegant satin finish, and it is as light as it is sturdy. In the bristles, we use nylon-reinforced boar bristles, which offer an optimal combination of durability and beard care power.
Although the brush is compact and fits easily into a suitcase or wash bag, it does not lose its power even when dealing with large beards. In fact, the brush is designed specifically so that its efficiency exceeds its small dimensions. It's not just about size, but how it is used.
This beard brush is not just a tool - it is an investment in beard wellbeing. It keeps the beard neat and well-groomed, makes beard styling easy after washing and oiling, and is easy to clean of loose hairs. Whether your beard is just stubble or already a thick bush, this brush will straighten it comfortably and effectively, and you can also use it for beard exfoliation. The beard brush is not intended solely for beard care. It is also a great tool for exfoliating the skin under the beard. The brush gently but effectively removes dead skin cells, keeping your skin healthy during beard growth.
This feature makes the beard brush especially useful already in the stubble stage. Regular exfoliation helps prevent skin problems, such as clogged pores and ingrown hairs, so we recommend starting to use the brush as soon as the beard starts to grow."
Made in Spain
Handcrafted & Small Batch
Brush: 15,7 x 3,4 x 2,8 cm