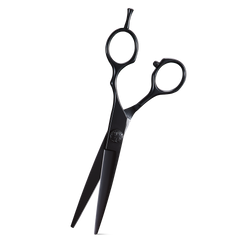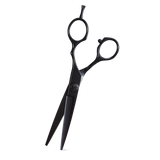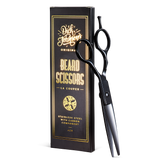 Beard Scissors
SKU: 6430076876225
Dick Johnson La Couper Grooming scissors are perfect for beard trimming. Their razor-sharp cutting blades and sturdy construction ensure effortless and precise results. The grooming scissors are made of stainless steel reinforced with carbon additive, making them durable and easy to maintain.
The ergonomic design of the scissors guarantees a comfortable user experience, and their outrageously stylish appearance is a delight to the eye. The scissors can be easily adjusted to your preference using the tightening screw. Generally, similar high-quality scissors can cost over 100 euros, but Dick Johnson La Couper Grooming scissors offer excellent quality at an affordable price.
These grooming scissors are truly fantastic and reliable. You can also use them for grooming your pet, such as a small poodle. The scissors cut effortlessly and precisely, and their appearance is superb. You can trust that these scissors will handle even the most demanding trimming tasks.
Dick Johnson La Couper Grooming scissors are unparalleled. They are like lasers, cutting effortlessly and accurately, no matter how thick your facial hair or fur may be. These scissors also have a stunning appearance, and their mechanics are top-notch. You can rely on these scissors to make your trimming operations easier and more enjoyable.
These scissors are simply diamond-like! Their design, precision, and cutting ability are top-notch. The finger holes are not too tight, making them comfortable to use. The scissors are so well-designed that you can even display them on the wall of your living room in frames, awaiting the next time you use them.
Instructions for use: The scissors are ready to use straight out of the package. If necessary, you can adjust the scissors using the screw located in the middle of the scissors. Remember to keep the scissors out of reach of children.
Dick Johnson La Couper Grooming Scissors are perfect for grooming the beard, hair and eyebrows.
Size: 15 cm x 5 cm
Material: Stainless steel which has been strengthened with carbon additive