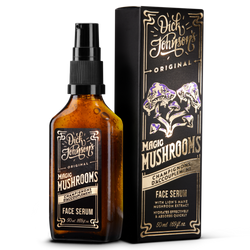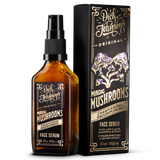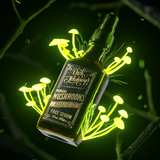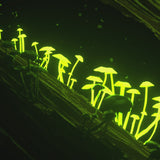 Face Serum Magic
SKU: 6430076876911
Magic Mushroom Serum is a powerful moisturizer and skin harmonizing treatment.

Do you want to revive your facial skin and make it look lively and crystal-clear? Magic Mushrooms Serum provides you with this magical effect! The serum is made from Lion's Mane mushroom extract, which absorbs effectively into the skin without leaving it tight, as long as the product is used moderately.

Lion's Mane mushroom extract has moisturizing properties that help restore the skin's natural moisture balance. As a result, your face will feel velvety, silky, and revitalized. With the use of Magic Mushrooms Serum, you will soon notice a difference in the clarity and evenness of your skin. And so will others!

Our serum is made from luxurious and potent ingredients, making it extremely effective. You only need to use a small amount of the product each time. We recommend a light pump in the evenings or after showering. This way, you will gain the maximum benefit from our product. So, use the serum sparingly.

Magic Mushrooms Serum is fragrance-free, and its pleasant scent comes directly from its active ingredients. This makes it especially suitable for sensitive skin and individuals with fragrance sensitivities. You can enjoy the product without any irritation caused by fragrances.

The name Magic Mushrooms is derived from the Lion's Mane mushroom extract contained in our product. We source the mushroom extract from a Finnish cultivator. The mushrooms are cultivated both in Finland and the Netherlands. Lion's Mane mushroom extract has long been used as a dietary supplement for balancing the nervous system. Additionally, it contains ample vitamins essential for the body. In skincare, this extract can be called a multitasker as it moisturizes, protects, and cleanses the skin.

Magic Mushrooms Serum is suitable for all skin types and provides intense hydration for the face. Whether your skin is dry, oily, or normal, you can rely on achieving healthy skin with minimal effort. Magic Mushrooms Serum is manufactured at Dick's Brewery factory!

Size: 50ml

Microdose: Use only half a pump at a time

Recommended use after shower or before bed time!

Suitable for those with fragrance sensitivities, does not contain fragrance.
Ingredients: 
Betula Pendula (Birch) Sap*, Aqua (Water), Glycerin, Butylene Glycol, Xylitol, Lactobacillus Ferment Lysate, Saccharomyces/Xylinum/Black Tea Ferment, Propanediol, Gluconolactone, Olea Europaea (Olive) Leaf Extract, Xanthan Gum, Sodium Levulinate, Sodium Hydroxide, Sodium Anisate, Picea Abies Extract, Hericium Erinaceus (Lion's Mane) Extract*, Alcohol, Sodium Benzoate, Potassium Sorbate