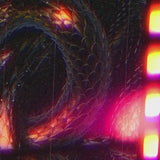 Beard Oil Snake Oil
SKU: 6430062921250
Nobody likes snakes, but at Dick Johnson, we keep our friends close and our enemies a little closer… Snake Oil moisturizes the skin, conditions the hair and smells great too, featuring Dick Johnson's Signature Scent of Raw Whiskey and Vanilla.
This product will keep your friends close and help bring those enemies a little closer to enjoy the smooth scent and fantastic finish every beard deserves.
Dick Johnson's Snake Oil is a dazzlingly magnificent, if not magical, product that helps you sculpt your beard into a divine masterpiece. The ingeniously designed pump of Snake Oil ensures effortless and precise dispensing. The product has been consistently praised, with over 1000 customers giving it a perfect five-star rating, attesting to its superior performance and unparalleled quality.

The composition of Snake Oil is like a potion that draws its power from almond, jojoba, argan, and blackcurrant oils. These unique oils nourish and strengthen your beard, creating a healthy and velvety-smooth result. Snake Oil tackles all beard-related issues, such as dryness and dandruff, while also combating skin problems like eczema and rosacea. Thanks to its exceptional absorbency, the oil quickly penetrates your beard.

The scent of Snake Oil is like a heavenly harmony, where vanilla bourbon, patchouli, and blackcurrant blend together. Its pleasant fragrance lingers around you like a magical gentle breeze, enchanting both you and the ladies. This divine olfactory experience is crafted at Dick's Brewery factory, ensuring that every bottle is as high-quality as the previous ones.

In summary, we can say that Dick Johnson's Snake Oil is an unparalleled beard oil that provides enchanting beard care and a captivating aromatic experience. It has received extensive praise through countless reviews, and it revitalizes your beard, making it silky-smooth and imbuing it with a masculine and sexy scent!

To use: Apply a few drops of oil into the palm of your hand, rub hands together and spread evenly throughout the beard from root to tip. For longer beards, add a splash more. Enjoy it as much as your fans will!!
Made

 

in Finland (Nordic wasteland)
Lots of different natural oils: blackcurrant, argan, jojoba oils etc
Raw Whiskey Vanilla

 

Scent (Our best seller scent) 
Size 50ml