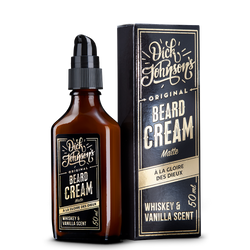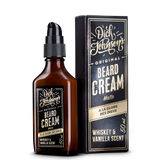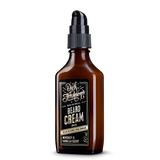 Beard Cream Ala Gloire Des Dieux
SKU: 6430076876003
Dick Johnson's Beard Cream is a top-of-the-line beard cream. We used two years to formulate it and managed to find seven active ingredients that work in perfect harmony in your beard and skin's best interests. Dick Johnson's Beard Cream Ala Gloire Des Dieux is a light, well-absorbed, super hydrating cream that effectively reduces beard dandruff and skin impurities under your beard. On top of all that, the beard cream gives your beard a light, stylish matte look.
By using the beard cream every day, you get a healthier beard and less dandruff and skin impurities under your beard.
Features:
Super hydrating cream for beard and face skin
Reduces beard dandruff effectively
Kills bacteria that cause skin impurities
Gives your beard a light matte look
Dick Johnson's Signature Scent Whiskey & Vanilla works brilliantly in combination with these heavenly herbs. The scent is extremely smooth and pleasant.
Active Ingredients:
Hippophae Rhamnoide (Sea buckthorn oil) Fruit Oil
Sea buckthorn oil is a super hydrating, nutritious and natural ingredients that suits all skin types. Sea buckthorn oil contains lots of vitamin E that hydrates the skin optimally. Its vitamins and carotenoids protect and strengthen the skin.
Pongamia Glabra (Karanja oil) Seed Oil
Karanja oil helps with itching and infections and repairs the skin.
Aloe Barbadensis (Aloe vera) Leaf Extract,
Aloe vera is known to most of us. It's a skin care universal medicine that relieves infections, reduces skin bacteria and acts as an antioxidant. Aloe vera's skin moisturizing features are, of course, undeniable.
Betula pendula (Silver birch sap) sap,
The nature's wonder stuff silver birch sap stimulates the cells in different skin layers, which gives product users anti-aging features. It also reduces skin damages from UV radiation. Hydrates and makes your skin more elastic.
Sesamum indicum (Sesame oil) Seed Oil
Sesame oil gives the product structure and binds together other ingredients, but we chose it mainly because of the fatty acids in it. Sesame oil also helps to maintain the moisture balance of the skin.
Glycerol
We chose glycerol as one of the ingredients because it's ability to absorb moisture from the air is exceptional. Glycerol is often used in products sold in pharmacies where they have high standards for the ingredients.
Butyrospermum Parkii (Shea) Butter
Shea butter extracted from the fruits of the shea tree in Africa contains vitamin E as well as other nutritious ingredients that give your beard long lasting moisture.