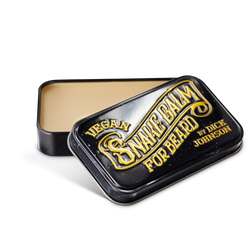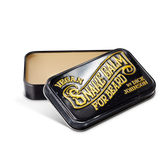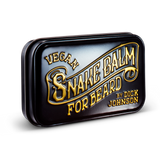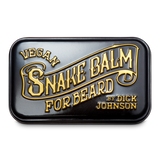 Snake Balm Beard Balm
SKU: 6430062922011
Snake Balm beard wax is a completely vegan and unique product by Dick Johnson, setting it apart from other beard waxes available on the market. This beard wax is designed to provide excellent beard care without the use of beeswax. Instead, beeswax has been replaced with natural plant-based candelilla wax, ensuring excellent hold and manageability.

Snake Balm is an incredibly skin-friendly beard wax that leaves no sticky residue. It blends perfectly with other oils. This beard wax contains rosehip extract, jojoba oil, and argan oil, which effectively nourish and care for the beard. Additionally, it has been infused with Dick Johnson's renowned "Whiskey & Vanilla" scent, complementing the beard care experience.

Snake Balm beard wax gives the beard a wonderful shine and vitality. It keeps the hair in check throughout the day. The product is easy to use, and its pleasant scent captivates both the user and those around. Snake Balm is a recommended choice for all beard wax users who value a premium, plant-based, and skin-friendly alternative.

How to use: Take a thumbnail-sized amount of beard wax from the jar and warm it between your fingers until it becomes pliable. Then, apply the wax evenly throughout the entire beard area. Finally, finish by combing or brushing to achieve your desired shape and style.
Made in Finland (Nordic wasteland)
Vegan 100%, no beeswax. 
Size: 55ml